---
The Artist Pledge © is a great first day project that can have a huge impact on the rest of the school year and is a great motivator.
The Artist Pledge © will reinforce self-control, effective communication, responsibility, empathy, and other skills needed to insure a positive safe learning environment.
At the beginning of each class have the students recite The Artist Pledge© out loud to reinforce these rules. The word "rules" sometimes can have a negative effect, instead teachers can use The Artist Pledge © for a fun way to have students remember what to do.
After reciting The Artist Pledge ©, have students will fill out a contract.
In order to be successful, students will need lots of encouragement, support, and practice in applying the rules to a wide variety of classroom situations!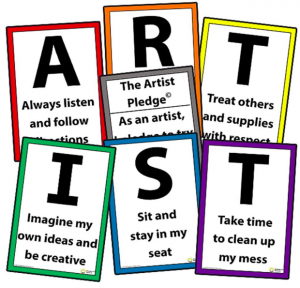 Seven 12" x 18" posters on high quality paper that can stand up to all kinds of abuse!
Seven copies of the Artist Pledge Contract
Directions included.